Best viewed using


buy, Philip
phone, card, cards, phonecard, phonecards, sell, sale, sales, cheapest, call, free, hello, asia, disabled, wheelchair, help, hearing, deaf, Villahermosa, Cebu, Talisay, Lawa-an, Philippines, Tabunok, support, impaired, Michael, Lorena, St., Saint, Louis, Missouri, charity, non, for, profit, Filipna, Filipno, deaf, school, philippine, schools, children, kid, kids, adults, schooling, supplies, philippine deaf, philippine school, deaf school, donate, used, hearing, aid, aids, fund, loss, donation, donations, Filipino, PI, Cebu, help, children, kids, impaired, disabled, hear, sign language, PI, disability, help, helping, community, impaired, give

| | |
| --- | --- |
| Mission... | |

Our Mission
To help the hearing impaired children of the Philippines.
Why do we do this? We do this because after you see the joy in a child's face after the child hears for the first time, you too would be happier then you could have believed. The feelings the child gets as you watch their eyes explode with excitement and wonderment. This truly is a wonderful feeling knowing that you have helped.
We are not able to help every child with hearing loss that needs it. But it would be nice. In a country where it is already hard enough for people that don't have a disability to survive. Hearing loss is utterly forgotten. Therefore, our mission is to help as many deaf children as we can. With your support, we hope to help many. To go to school, learn, and perhaps hear for the first time. Schooling can easily help this children enjoy life as they are eager to learn. Your used hearing aids can provide them the opportunity to continue on to their hopes and dreams. They possibility to compete with their non-deaf community.
Please feel free in contacting us with questions, comments or even a story you would like to share with us or everyone.
History

After I arrived in the Philippines in October of 1999, I was introduced to a bright and curious little deaf boy named John-John. Being that I also have a disability, physical, I knew how hard it could be for JJ to compete with others. In the Philippines, even more so. Being poor is already a disadvantage. Being poor and deaf is a huge disadvantage.
As it is, it is difficult enough for those even without a disability to survive the economic hardships in the Philippines. The problem becomes compounded by having a hearing loss. Disabled children like JJ receive little to no support from the government. The deaf children of the Philippines are being left behind as there are very few resources given to them. We hope to help change this fact.
Working only as a volunteer, we are helping raise funds for the hearing impaired children of the Philippines. We also will help adults as we can depending on the amount of donations that we receive. We collect hearing aids and supplies, school supplies, and cash donations from the sale of merchandise. Our goals are large, so we hope you will consider to support our cause.
On April 15, 1999 Richard Manuel set out on his yearly trip to the Philippines with ear molds and the hearing aid donations that we had acquired. For 10 days Mr. Manual, accompanied by a Philippine hearing doctor, travel throughout Cebu testing the hearing function of the children, making ear molds and distributing the hearing aids.
We continue to raise funds in the hope to help more children in need.
Richard Manuel
Richard Manuel is a board-certified audioprosthologist, based in Cincinnati Ohio and is on a mission to spread hearing throughout the Philippines.
Since his first trip to Cebu, Philippines in April 1988, Manuel has led yearly trips to Cebu giving hearing aids away to the indigent populations of these areas who never had the chance.
Mr. Manuel not only grants the gift of sound, but also has experience in hearing rehabilitation, services, counseling and psychology of the hearing impaired.
A Case Summary

The Philippine Hearing Fund of America is dedicated to providing direct services to hearing impaired children of the Philippines. In addition, it strives to stop the cycle of poverty by promoting learning opportunities for the poor, and to help them provide the learning utensils they need.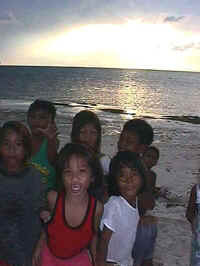 provided by Mingsworld
Accomplishment Results

Who would not want the opportunity to hear. Hearing is not a necessity of life. But, if there is the prospect to help enrich someone's life, why not. We want to help the schools with basic materials to help teach the children. Education is the most effective way to combat poverty and to save children from the elements of the streets. It can protect the children from the hands of drugs and prostitution lords.
Through our education program, children are given the opportunity to learn and to compete academically with other non-impaired children. Giving JJ and other children like him the opportunity to succeed where once there were not many if any choices.
So far, we have gathered and distributed 50+ hearing aids and other supplies.
For an updated listing of donations, please visit our Activity History page.